"Interdependent people combine their own efforts with the efforts of others to achieve their greatest success." – Stephen Covey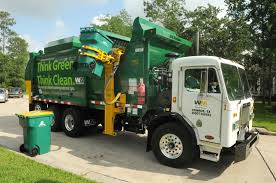 Today when I was walking my dog in the neighborhood I stopped and took a few minutes to watch the waste management truck pick up the garbage and recycling. I watched the driver of the truck pull up to the recycling bin at the curb. He did not get out of the truck to empty the contents into the receptacle in the truck. He had a robotic arm attached to the truck pick up the recycling bin and empty the contents into a dumpster connected to the truck. This process was repeated at every house. This automation fascinated me as I contemplated garbage truck crews of my youth and how different they were. When I was a boy the garbage truck had a crew of three men, a driver, and two people who rode on the back of the truck and who emptied the trash into the truck and who operated the trash compactor.

When I was in 2nd and 3rd grade and there were three employees per garbage truck I wonder if my teachers were charged with the task of preparing me for the jobs of tomorrow. I wonder if my teachers in 2nd or 3rd grade thought about the depth of knowledge of my learning experiences or activities. I wonder if my teachers four decades ago would have, could have, or did, contemplate a future where garbage trucks today do not have three humans, they have one human and a truck with the sophistication of the space shuttle. I wonder if STEM or STEAM concepts were driving instructional decisions in the 1970s when I was in grade school.
In considering what happened in forty years to the waste management industry, one could draw a conclusion that technology has cost two jobs per truck. While that's one way to look at this situation; forty years ago there were three people per truck, today there is one person per truck. Another way to look at this is that education forty years ago (or over the past forty years) has changed to allow people to learn new ways to implement waste management. Perhaps the new ways the trucks operate have added two or more jobs. While the people are no longer garbage truck operators, they are now trained to use robotics, natural gas engines, etc. Jobs created by and for engineering people, other jobs – not yet imagined forty years ago – are filled with people skilled and prepared for jobs of our present.
As a superintendent am I supporting and leading an organization preparing students for jobs of the future not yet imagined? I hope so!
So as I'm putting the final touches on the slides I'm using with a presentation at a local conference this Friday at the Argonne National Laboratory in Lemont, IL I am thinking about my experiences today with the garbage truck processes.
In the short video clip below the creator of the Rubik's Cube offers thoughts on our mission in education and life:
Rubik's Cube: A question, waiting to be answered