"Outstanding leaders go out of their way to boost the self-esteem of their personnel. If people believe in themselves, it's amazing what they can accomplish."
– Sam Walton
On this journey there were so many outstanding leaders and each and every one of them went out of their way to support our incredible accomplishments.
As I have written before, the Dominican engineer and skilled laborers were among the best teachers with whom I have ever worked. Am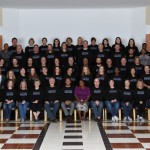 ong their many attributes, they were patient, they used multiple forms of communication, they assessed our strengths and weaknesses, they helpedguide us to highly skilled work and they never lowered their standards. They took us (unskilled laborers) volunteers as we were, they accepted who we were and what we could do, and they turned us into skilled experts in a number of areas. Their standards of excellence never wavered, in fact they got higher as our skills and abilities increased under their direction.
Pastor Angel Moreta is the visionary leader who has set forth on the transformation of Constanza's outskirts. He is seeing to it that the lives of the forgotten villagers will soon be better. He is the champion of education and social justice who we went to serve. He is the inspiring visionary leader who brings forth people from multiple walks of life in unity for a common good. He deserves tremendous credit for
improving the lives of the young people in these areas. While we were there the Cecaini school was dedicated and authorized by the government – this was the first school project that LifeTouch embarked upon in the Dominican Republic. It was powerful for us to begin with the end in mind in terms of our school project. The pastor is seeing the power of his vision and his leadership in the work of so many.

The motto of our school district is Engage, Inspire, Empower. Those strong verbs were present in multiple forms during this memory mission trip. We were truly engaged in the work, in the relationship building and in reflection. We were truly inspired in service, personal growth, and social justice. We were truly empowered to build/construct, make relationships, and to learn from others. In our district we often talk about creating environments where we want our students to run to school every day. Well, in our Dominican construction school, we did run to school/work every day. As a result of our

...